Vans equipment Ducato L1 H1 / CH1
Professional, the Fiat Ducato fittings for perfect integration between vehicle and mobile workshop needs.
Example of commercial vehicle equipment for FIAT DUCATO 2014 (Wheelbase 3000 mm).
---
DO YOU HAVE A DIFFERENT DUCATO VAN VERSION? SEE OTHER VAN outfitting examples:
---
Choose one of our complete Professional fittings solutions or just the shelving that best fits your work needs:
*Fixing kit included
Complete Professional solutions for Ducato L1 H1 / CH1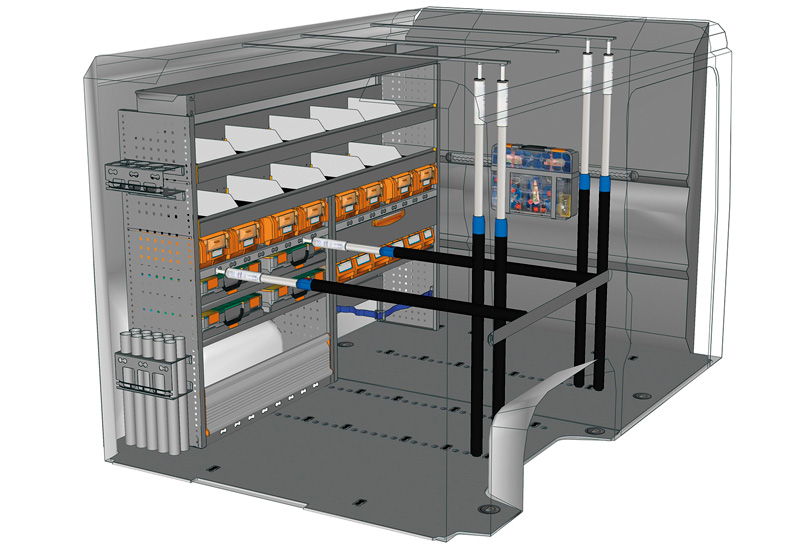 EXAMPLE DU L1H1 P1*
Example of solution composed of:
1 x DU 2015 P3
1 x DU 10G1 AO
1 x V22585
6 x V22131
1 x V18029 15
1 x V18029 10
4 x V22106
3 x V18025 15
1 x BOX080
1 x CPV080
2 x V22136
2 x V22124
2 x V22148
1 x YELLOW
4 x V225820
---
Examples of Professional shelving for Ducato L1 H1 / CH1
---
The right interior flooring and coverings protect your Ducato van's original bodywork. Your just-out-of-the-factory van, in fact, needs to be reinforced and ready to tackle the long and profitable road ahead. Flooring and panelling – available in phenol-resin bonded plywood or aluminium diamond plate, and in honeycomb polypropylene, respectively – are literally like a vaccine for the van's cargo space against wear, rust and accidental damage.
Our fittings are highly customisable to meet every cargo transport need, so when the interior space is not enough, you can take advantage of your van's available roof space, choosing from a variety of roof rack and ladder rack configurations.
---
Click here to learn more about our SAFETY, PROFESSIONAL and MOBILE fittings packages
---
---
WOULD YOU LIKE TO KNOW MORE?