Van loading Ramps
Servo assisted loading ramps with tubular steel structure and knurled slip-proof aluminium platform. Connection to the vehicle by means of a telescopic column and self-positioning feet. The assembly does not require any structural modifications to the body of the vehicle and the platform itself. Extremely fast assembly. Patented and TÜV-GS certified ramps. Innovative servo-assisted closing and opening system. Additional vertical rotation opening with locking.
Load capacity: from 600 Kg to 1500 Kg.
Useful surface width: da 800 a 1250 mm
Useful surface length: da 2000 a 3000 mm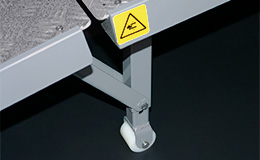 ADJUSTABLE FOOT
The feet are adjustable in height with roller support to adapt the ramp to the vertical movements of the vehicle.
PERFECT BALANCING
Gas springs for easier opening and closing movements.
DOUBLE FIXING
Lower fixing using the vehicle's original fixing points; therefore it is not necessary to drill holes. Upper fixing to stabilise and strengthen the structure.
FOR ALL REQUIREMENTS
Patented and TÜV-GS certified ramps. Additional vertical rotation opening with locking.