Transformation of commercial vehicles for express couriers and street seller's van
Transforming van delivery – CEP
---
TRANSFORMATION OF COMMERCIAL VEHICLES FOR FORWARDERS AND STREET SELLER'S VANS
The transformation solutions for commercial vehicles used for CEP (courier, express, parcel) services designed and manufactured by Store Van are the ideal solution to transport goods in a safe, practical and fast way, thanks to the optimal and flexible use of space. Depending on the requirements, we offer the Light Shelf equipment solution, with foldable shelving system of different lengths that can be adapted to various needs, and the vehicle's transformation for the CEP service. The utmost work safety is guaranteed by the partition with sliding door, burglar-proof access to the loading compartment and foldable shelving system with up to 100 kg load-bearing capacity.
---
CHARACTERISTICS OF THE COMMERCIAL VEHICLE TRANSFORMATION
---
PARTITION WALL
STORE VAN PARTITION WALL SYSTEM stems from the need to develop new specific products for the increasingly demanding courier service market. In order to meet the customers' expectations we created an easy, flexible and efficient solution. With its CEP-fittings, Store Van offers an ideal solution for the world of Courier – Express – Parcel, focusing on safety, reliability and quality. A direct access from the driver's cab to the cargo area grants an optimal and flexible space usage through an ergonomic and secure doorway. Our partition system is composed of:
Panels made of phenolic coated and laminated grey plywood, pre-shaped and perforated to be easily assembled;
Hidden fixing bars made of steel to anchor the chassis to the side wall and reinforce the vehicle's main structural parts;
Foldable passenger seat complete with head restraint fixed to the partition wall;*
Mechanical locking system on the sliding door with security key and handle for opening and closing; electronic lock with numeric keypad available as optional;
Driver's cab flooring made of aluminium chequer plate;
Custom-made headliner to fit the bulkhead.
* Volkswagen Crafter / Renault Master:
Foldable passenger seat option available only with a certificate of conformity (COC) issue on an approved Store Van site.
For more details please contact the Store Van commercial dept.
Fiat Ducato:
Vehicle conversion available only with the issue of a certificate of conformity (COC) on an approved Store Van site.
For more details please contact the Store Van commercial dept.
FOLDABLE SHELVING SYSTEM
Foldable shelving system with up to 100 kg load-bearing capacity per linear metre and cushioned opening by means of gas springs.
Adaptable to the customer's needs up to a length of 4,000 mm and a depth of 600 mm in a single piece. They can be supplied with non-slip mat, front edge with increased friction and 200 mm-high metal dividers tested by TÜV for withstanding loads of 100 kg each in case of emergency braking.
The steel tube uprights are folded so that they match the vehicle's contour. In this way, the full depth of the shelves can be exploited without obstructing the passage through the central corridor.
The system is fastened to the vehicle with screws without any welds. This fastening system ensures that the van shelving can be transferred to a new vehicle without altering the structure's integrity.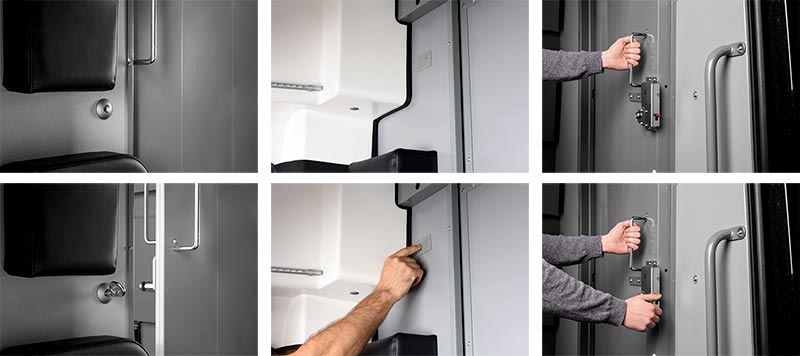 SAFETY ACCESS TO CARGO SPACE
Locking system with three security levels: mechanical key lock, electronical lock with numerical code keypad and memory of last 1000 access events, lock with optional remote control.
Driver's cab opening by means of ergonomic handle with built-in lock, optionally with light sensor.

CERTIFICATIONS
Store Van can thoroughly and reliably install its sliding door partition bulkhead, attested by the issuing of a COC certificate for the vehicle's conversion. Store Van is one of the few in Europe having obtained all the required certifications and conducted tests for supplying and installing this product.
In order to comply to homologation requirements, following tests have been carried out by an authorized institution:
Test according to ECE R14 Regulation concerning seat belt anchorage in driving cab (both for OE driver seat and Fami-made passenger seat; test simultaneously conducted on an empty bodywork);
Test of energy absorption for the head restraint fixed to the bulkhead, as required for N1 vehicles according to ECE R25 Regulation;
Complete bulkhead verification in accordance to ISO 27956:2009, as provided for N1-Category vehicles in Annex II of 2007/46/EC regulation (Paragraph 3 – Point 3.4).
---
---
WOULD YOU LIKE TO KNOW MORE?