Van racking and shelving
Modular Van shelving highly resistant against corrosion and with cargo restraint devices as a standard feature
---
Available in four fittings options,
Safety, Professional, Mobile
and
Floor Up
, our Store Van shelving solutions are the perfect way to make the most of your van's interior cargo space and safely transport your goods and equipment. Thanks to the modular design, they can be combined as desired, plus different elements can be added to meet any work need.
All solutions can be implemented with SAFETY FLOOR van flooring – allowing for the creation of vertical and horizontal anchoring systems via the integration of Airline guides and load-stop bars.
Explore our outfitting solutions and the elements to create your ideal configuration!
---
Van racking systems: view our solutions by make and model!
---
---
---
Compose your van shelving with:
---
---
Our StoreVan shelving units for vans can be customized with additions such as fixed and telescopic channels, trays with aluminium dividers, shelves that perfectly accommodate plastic containers, or van drawers to keep the equipment safely stored and organized.
---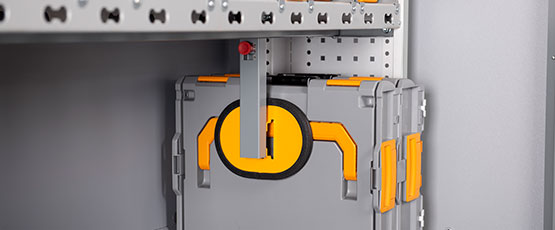 FRAME BLOCK
Available from late July
Adjustable frame block
STORAGE TOP
STORAGE TOP trays with aluminium dividers
WORK EASY
Extractable vise workbench for installation on equipped vans
ROLL PLUS
Van shelving compartment with ROLL PLUS shutter closure
CASE PLUS
Extractable shelf for CASE PLUS small parts organizers
WORK LOOK
WORK LOOK perforated tool-holding wall with PRACTIBOX plastic containers
EXPLORE ALL OUR AVALABLE SHELVING ELEMENTS
---
---
TECHNICAL SPECIFICATIONS
StoreVan smartly combines high corrosion resistance with increased residual capacity in its new comprehensive range of van racking and van storage solutions, designed to leave its mark. The stratagem is technology, that is, the use of automotive galvannealed sheet steel whose surface treatment with cathodic acrylic immersion coating confers to the single items of the racking system a very high surface quality and a remarkable corrosion resistance. StoreVan is worldwide the sole LCV's Racking Systems manufacturer to make use of this technology. The d technical features are corrosion resistance in excess of 500 hours (humidity ASTM D1735) and excellent hardness with a minimum rating of 2 hours.
The Van racking and shelving structure is very light, but at the same time, extreme resilient – thanks to an innovative anchor system that uses aluminium bars. The weight reduction determines a significant increase of the vehicle residual capacity. That means for the user, a higher load capacity.
Design itself was part of StoreVan restyling: elements built with a high resistance and load bearing tubular system, ergonomic plastic handles (with possible key locking on request), drawers on smooth guides with opening and closing safety stops, 25 mm height adjustment of the various elements. The new StoreVan production range helps optimize the space with the new functional plastic boxes available in various sizes and the innovative solution of modules with the opening of drawers towards a slide door. The 90° rotation of the module improves also the efficiency by avoiding useless ups and down on the vehicle.

---
FLEXIBLE FIXING SYSTEM
Store Van uses a special rail anchoring system to secure shelving units for vans to the chassis of your vehicle, improving the flexibility of module arrangement and maximising the internal spaces of your van.
Our anchoring systems are fitted with quick locking/unlocking devices with adjustable handles, so users can remove the fittings with no need of tools.
---
WOULD YOU LIKE TO KNOW MORE?