Fiat Talento van equipment
Talento van equipment solutions with floorings, internal coverings and shelving for total load safety.
Store Van offers van equipment solutions for Fiat Talento. The corrosion resistance of Store Van vans is guaranteed by cataphoretic dip coating finishing. We are the only manufacturer in the world to use this type of paint finishing to ensure improved fittings resistance to rust. Thanks to our latest-generation 3D design software, we are able to create a true-to-life, high-definition simulation of the proposed outfitting in just a few minutes.
This allows us to meet a variety of needs, effectively responding to the working requirements of different professionals.
VAN FITTING SOLUTIONS:
---
Click here to learn more about our SAFETY, PROFESSIONAL and MOBILE fittings solutions
---
THE FOUNDATION FOR FAIL-SAFE PROTECTION OF YOUR VEHICLE
---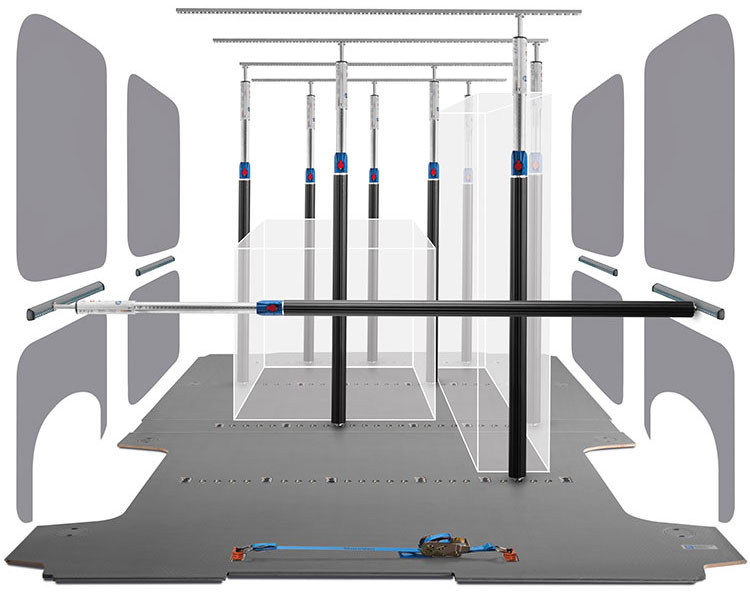 Solutions TÜV-certified
The interior coverings and flooring for Fiat Talento have been designed not only to protect the interior bodywork, but also to allow for safe transporting of professional equipment – including any bulky or breakable item. The cargo can be secured via a system of belts and telescopic bars which, sliding in milled aluminium guides mounted on the ceiling or the side walls of the vehicle, adapt to the load dimensions, anchoring it.
The "Airline" guides on the ceiling or side walls of the van create a complete horizontal and vertical load securing system. In this way, the cargo can be secured in a flexible and safe manner, in compliance with the 2014/47/EU directive, to ensure the highest quality standards.
ADVANTAGES
protects the van's bodywork
the cargo is transported safely
complies with directive 2014/47/EU
COMPLETE YOUR OUTFITTING FOR TALENTO WITH
RACKS AND LADDER RACKS FOR TALENTO
Professionals like plumbers, electricians or maintenance technicians often use large sized pieces of equipment that are not flexible and can't be folded, so being able to use their van roofs is a priority. For this reason, Store Van has designed a complete range of van ladder racks and roof racks.
---
---
---
Convert your Fiat Talento van into a mobile workshop.
FOut with Scudo, in with Talento! Replacement concerning the medium-sized segment of the Fiat Professional commercial vehicle fleet. Born of Fiat's partnership with Renault, the new Talento, not by chance, is named after the old Ducato version with a shorter wheelbase which, from 1989 to 1994, was Fiat's option for mid-range vans.
Externally compact and generously sized internally, it offers excellent loading capacity, agility and versatility. Available in two different heights, two lengths and two wheelbases, it is equipped with powerful and efficient E6 engines which, supported by the most advanced driving assistance systems, ensure high performance and low consumption. To increase the performance and capacity of this Fiat vehicle, Store Van suggests to equip it with a mobile workshop set-up that improves its functionality and productivity levels.
For equipment, work tools, spare parts and hardware storage, the ideal solution is racking designed for vans. Our designs include compartments with hinged doors, drawers, plastic containers and pull-out boxes. And since perfect visibility is a must for hands-on maintenance work, we also offer LED lighting with switches, pull-out workbenches with vices and a full range of accessories.
Buying a van is always a considerable investment, both for small business owners and for companies; it is therefore very important to make it profitable, with van equipment designed to ensure integrity over time and optimise load-carrying capacity – turning a van into a successful professional tool.
Contacting an authorised Store Van centre can help define the meaning of these mobile workshop key words: integrity, tidiness and organisation, safety and professionalism.
---
WOULD YOU LIKE TO KNOW MORE?