Van equipments StoreVan – Lombardy Subsidiary
Request a free quotation for the fitting of your commercial vehicle from the Store Van subsidiary at Rivolta d'Adda (Cremona), in Lombardy. You will receive the best solution for your needs, designed with the best van equipments: flooring and panelling to protect the interior, shelving, drawer units, workbenches and everything needed for restraining the transported goods.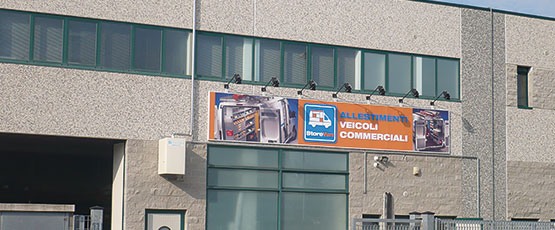 The Rivolta d'Adda subsidiary reflects the continual growth achieved by Store Van, which is determined to consolidate its share of the Italian van fitting market by serving dealers and fitted commercial vehicle users at the local level.
The team of the Store Van Rivolta d'Adda subsidiary partners you in designing the ideal fitting for your van, giving you three-dimensional drawings of the customised solution produced, to provide you with a realistic, detailed simulation of the inside of the cargo section.
Carefully designed down to the tiniest detail, the StoreVan mobile workshop is an excellent business card for your professional services. Contact us to talk it over!
LOMBARDIA
BERGAMO, BRESCIA, COMO, CREMONA, LECCO, LODI, MILANO, PAVIA,
SONDRIO, VARESE
FAMI S.r.l.
Via delle Arti e Mestieri, 3
26027 Rivolta d'Adda (CR)
Tel. +39 0363 79934 – Fax. +39 0363 371718
info.rivolta@storevan.it

MANTOVA
FAMI S.r.l.
Via Stazione Rossano, 13 – 36027 Rosà (VI)
Tel. +39 0424 585455 – Fax. +39 0424 585482
info@storevan.com
Riferimento: Sig. Marco Tezza
marco.tezza@storevan.it
Cell. +39 331 8887083