Van equipments for Volkswagen Crafter 2017
Volkswagen Crafter 2017 is the new generation of one of the best-selling vans designed by Wolfsburg manufacturer to meet every need with a stunning range of products and a set of innovations on many fronts. Available in 69 different configurations, 4 variants, 3 lengths and 3 heights, the new Crafter features a number of innovative technological devices and improvements in terms of driving comfort and ease of loading. Designed to establish new standards in the field of professional transport, the new Crafter was elected "International Van of the Year 2017" even before its launch.
Demand the best for your vehicle!  Install Store Van's Volkswagen Crafter 2017 fittings and give your van's cargo compartment a massive efficiency that will increase the value of your purchase.
VAN FITTING SOLUTIONS:
---
Click here to learn more about our SAFETY, PROFESSIONAL and MOBILE fittings solutions
---
THE FOUNDATION FOR FAIL-SAFE PROTECTION OF YOUR VEHICLE
---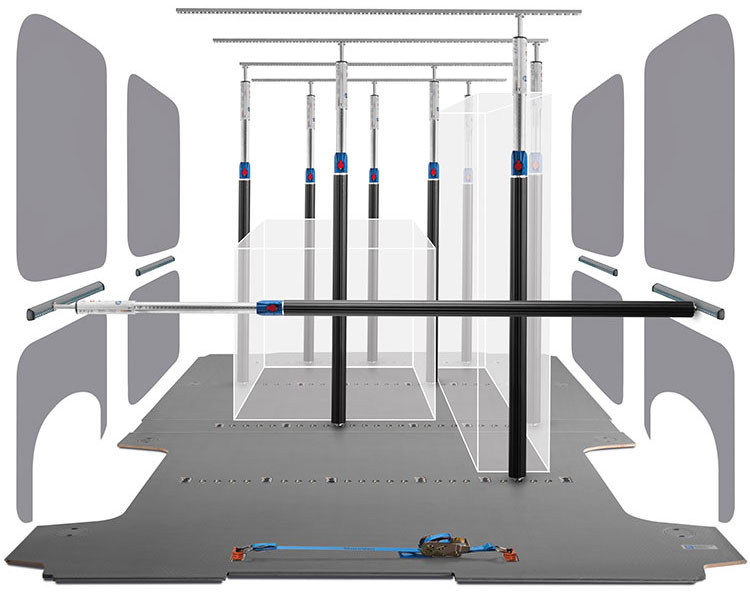 Solutions TÜV-certified
In all Store Van's Italian assembly centers, designers and installers are ready to set up VW Crafter 2017 vans, and equip them with an assortment of specific products ranging from floor coverings and body panel linings to custom solutions for modular shelving, accessories of all kinds, locking systems and load securing elements.
Whatever the model of VW Crafter 2017 to be fitted, Store Van modules transforms the new commercial vehicle into a unique, highly performing, customized mobile workshop, which becomes the perfect business card. Raw materials and the technology used in Store Van equipment's production process are the basis of their high quality: the use of galvannealed metal sheet gives the metal modules a very light weight while cataphoresis coating guarantees a very high corrosion resistance, far above the average.
COMPLETE YOUR OUTFITTING FOR CRAFTER WITH
RACKS AND LADDER RACKS FOR CRAFTER
Professionals like plumbers, electricians or maintenance technicians often use large sized pieces of equipment that are not flexible and can't be folded, so being able to use their van roofs is a priority. For this reason, Store Van has designed a complete range of van ladder racks and roof racks.
---
---
WOULD YOU LIKE TO KNOW MORE?