Van equipments for Peugeot Expert 2016
Outfitting of Expert 2016 mobile workshop
With highly compact dimensions, the Peugeot Expert 2016 van is ideal for urban deliveries. The modern design of Expert 2016 is one of the assets of this van. Store Van offers customised solutions for the outfitting of Peugeot Expert 2016 vans: flooring and panels for the protection of the cargo area, roof racks and ladder racks to increase the load capacity of the vehicle, shelving to keep the equipment tidily arranged, and much more. Find out about all the Store Van fitting solutions, contact us for a no-strings, personalised quotation for the outfitting of your Peugeot Expert 2016 van.
VAN FITTING SOLUTIONS:
SAFETY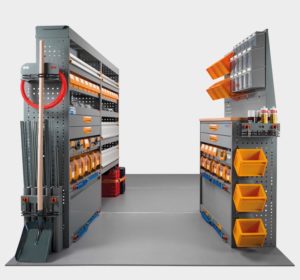 Standard shelving with load fixing
Fittings example:
PROFESSIONAL
Shelving with additional Airline restraining systems
Fittings example:
MOBILE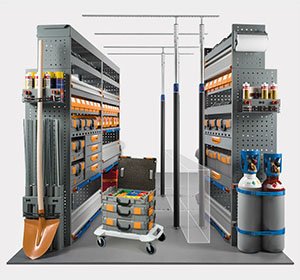 Integrated outfitting with hardware storage cases and trolleys
Fittings example:
Click here to learn more about our SAFETY, PROFESSIONAL and MOBILE fittings solutions
---
THE FOUNDATION FOR FAIL-SAFE PROTECTION OF YOUR VEHICLE
---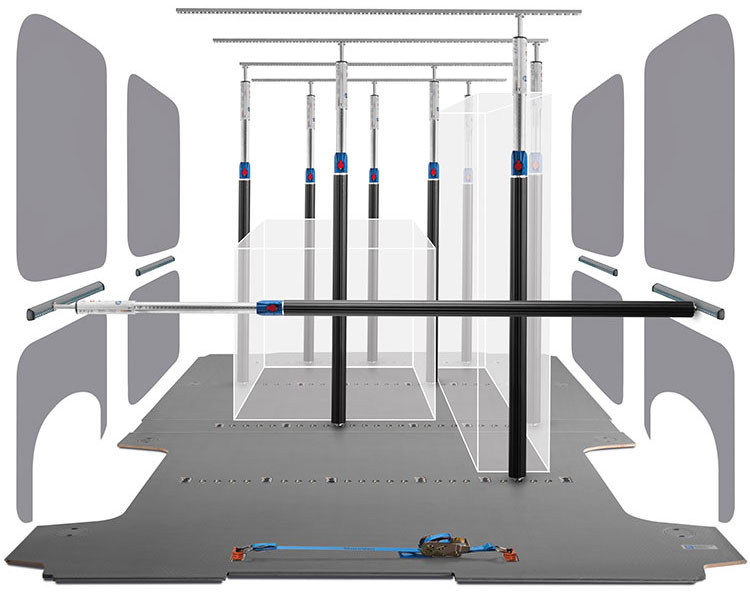 Solutions TÜV-certified
Store Van can convert your Peugeot Expert 2016 van into a mobile workshop – making it even more functional, and ensuring perfect balance between compact external dimensions and top load capacity for its category, in order to meet the primary professional requirements of comfort, safety and performance. Available in three length versions, one height (1.90 m) and short wheelbases, the new Peugeot commercial vehicles are ideal for urban travelling, including when it comes to easy parking requirements.
If you are looking for clever ideas to equip the cargo area of your new van, or its roof area, have a look at our equipment design examples for Expert 2016 and then call our toll-free number 800-645506 to receive a non-binding quote for modular shelving, flooring and panelling, roof rack and ladder rack.
The cataphoretic coating system used for fittings for Peugeot Expert commercial vehicles creates a uniform layer of an acrylic resin on the surface of the various components, ensuring a high degree of protection against chemicals, rust and corrosion for a long period of time, and keeping our fittings' technical characteristics unchanged even in extreme conditions. Choose the best for the van equipments of your Peugeot Expert 2016 van! The quality of Store Van mobile office fittings for light commercial vehicles is certified by GS.
COMPLETE YOUR OUTFITTING FOR EXPERT WITH
RACKS AND LADDER RACKS FOR EXPERT
The outfitting can be completed with roof bars, ladder racks and pipe loaders to be simply installed on the roof of the van.
---
---
---
---
---
WOULD YOU LIKE TO KNOW MORE?