Van equipments Fiat Fiorino
A Fiorino fitting protects your vehicle, maximizes the available space, organizes your equipment and keeps the load safely secured.
The StoreVan range of mobile office products offers fitting solutions suitable for 2007 Fiat Fiorino vans. Internal fittings, roof and ladder racks, floorings and panellings, accessories: whatever the working requirement, the right solution is tailor-made. Our Fiat Fiorino van equipments have high rust resistance and are GS certified.
You will no longer be captive to confusion and clutter with our modular shelving units, which you can combine in a variety of ways for safe, quick and organized storage of tools, small parts and goods.
Like for all our StoreVan solutions, your have the possibility to customize the shelving with additional components, including drawer units, various sized shelves, work benches, plastic bins, small part organizers, and lots of accessories to make the most of your Fiorino van space.
After your purchase your vehicle, keep investing with a custom Fiorino fittings. It is the best strategy to capitalize on your image. Customers satisfied with your competent, responsive and prompt service will gladly and willingly recommend you to friends and family in need of a professional tradesman!
EXAMPLE VAN EQUIPMENTS:
---
Click here to learn more about our SAFETY, PROFESSIONAL, MOBILE and FLOOR UP fittings solutions
THE FOUNDATION FOR FAIL-SAFE PROTECTION OF YOUR VEHICLE
---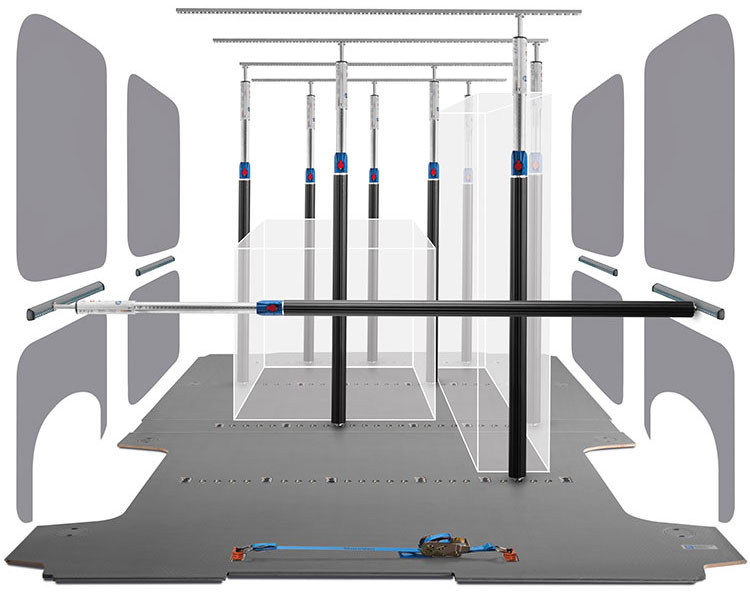 Solutions TÜV-certified.
Transported equipment and loose goods, dents, rust, wear and tear, are the main threats to the internal bodywork finish of the Fiorino – implying extra costs for its owner. Store Van has meticulously designed flooring and panelling, to ensure maximum strength, durability, protection and safety of the transported goods and bodywork.
In phenolic plywood or knurled aluminium, the flooring is designed to protect the walk-on floor from stress during transport; similarly, the polypropylene honeycomb side panellings protect the sides from dents – which may be very expensive to repair.
"Airline" guides can be integrated in the interior covering, creating a complete horizontal and vertical fixing system.
In this way, the cargo can be secured in a flexible and safe manner in compliance with the 2014/47/EU directive to ensure the highest quality standards.
ADVANTAGES
protects the van's bodywork
the cargo is transported safely
complies with directive 2014/47/EU
COMPLETE YOUR VAN EQUIPMENT FOR FIORINO CARGO WITH
RACKS AND LADDER RACKS FOR FIORINO
When you need more room to transport material and equipment in your van, make room with Store Van's raised floor. If it were a slogan, it would be "less is more"; instead, it is the underlying principle of our designs – increasing the storage capacity in the cargo area of medium-small to small-sized commercial vehicles.
---
---
---
WOULD YOU LIKE TO KNOW MORE?