Van equipments for Citroën Berlingo
Berlingo Professional equipment solutions: The perfect integration between a vehicle and an equipped mobile workshop.
Store Van offers van equipments for Citroën Berlingo. The Citroën Berlingo workshop for commercial vehicles can be equipped with "load safety" fittings, a structure consisting of AIRLINE guides, mobile load retaining bars that slide on the guides and belts with quick-fit clamps. Secured by the bars that move to adapt to different sizes and volumes, the goods are even more securely anchored via straps with clamps; in case of overturning due to sudden braking, this avoids damage to the cargo and the cargo area interior.
A Berlingo outfitting offering high safety standards like Store Van's outfitting options, is the ideal solution for transporting breakable (window panes, bottles) or heavy (door and window frames, large boxes, building material) and other similarly critical materials.
Using automotive grade electro-galvanised steel plate and dip-coating with acrylic resin, "made in STORE Van" commercial vehicle fittings have declared technical characteristics including corrosion resistance of over 500 hours (ASTM D1735 water fog) and excellent hardness with a rating of at least 2H. Choose the mobile office tailor-made for your Citroën Berlingo van: all our modules have GS certification.
VAN FITTING SOLUTIONS:
---
Click here to learn more about our SAFETY, PROFESSIONAL, MOBILE and FLOOR UP fittings solutions
---
THE FOUNDATION FOR FAIL-SAFE PROTECTION OF YOUR VEHICLE
---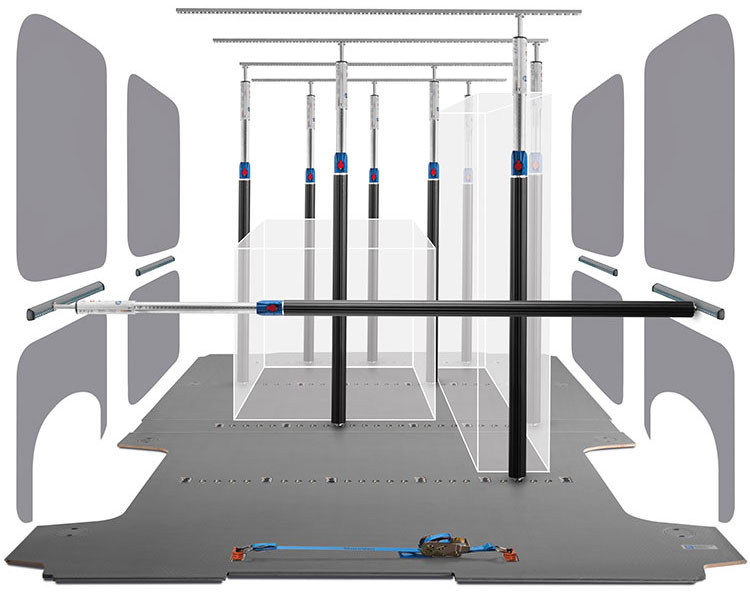 Solutions TÜV-certified
COMPLETE YOUR VAN EQUIPMENT FOR BERLINGO WITH
RACKS AND LADDER RACKS FOR BERLINGO
When you need more room to transport material and equipment in your van, make room with Store Van's raised floor. If it were a slogan, it would be "less is more"; instead, it is the underlying principle of our designs – increasing the storage capacity in the cargo area of medium-small to small-sized commercial vehicles.
---
---
WOULD YOU LIKE TO KNOW MORE?