Van equipments Toyota Proace
Commercial vehicle Toyota Proace is the perfect base for a van fitting. We can transform your van into a mobile office, making the most of available space and securing transported goods. Whatever the working requirements, our technicians find the best, tailor-made solution for any customer and every proposal is accompanied by 3D drawings. Choose the quality of the Store Van mobile office to equip your Toyota Proace van.
Galvannealed sheet steel, used in the production of Store Van commercial vehicle fittings, is the variant of hot-dip galvanised sheet steel which undergoes additional heating to a temperature of about 550°C. By means of this process, the zinc is bonded to the surface of the sheet steel, forming an alloy with the steel and a uniform galvanised layer. The sheet steel is then further toughened by cataphoretic coating, a treatment that releases a uniform deposit of an acrylic resin on to the component's surface, to protect it from rust. This is why the quality and exceptional corrosion resistance of the mobile office modules for your Toyota Proace van are so much better than the rest. We offer custom-made solutions for internal panels, floorings and fittings. Contact us for a no-strings quotation for a van equipments for your Proace van.
VAN FITTING SOLUTIONS:
Click here to learn more about our SAFETY, PROFESSIONAL and MOBILE fittings solutions
---
THE FOUNDATION FOR FAIL-SAFE PROTECTION OF YOUR VEHICLE
---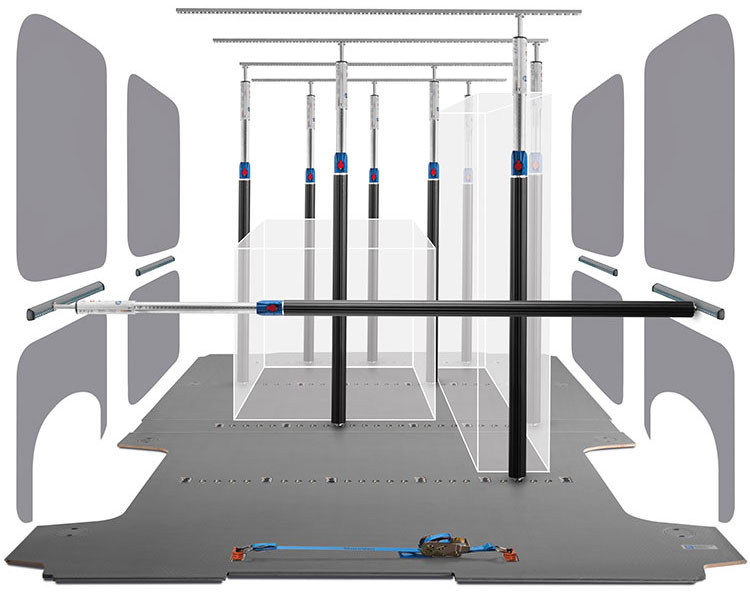 Solutions TÜV-certified
COMPLETE YOUR OUTFITTING FOR PROACE WITH
RACKS AND LADDER RACKS FOR PROACE
The outfitting can be completed with roof bars, ladder racks and pipe loaders to be simply installed on the roof of the van.
---
---
---
---
WOULD YOU LIKE TO KNOW MORE?