Floor and panels for vans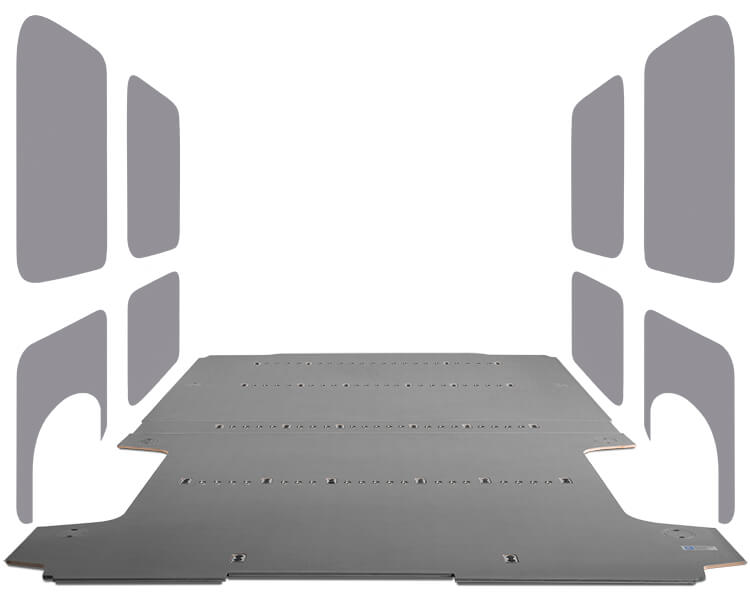 The Store Van interior coverings for vans offer guaranteed protection of the bodywork and load compartment.
---
The
van floor
can be lined with a
marine wood or an aluminium diamond plate
to protect the vehicle's protective coating and the bodywork from scratches and dents inevitably caused by the equipment and load. The
side walls and door
of the vehicle are instead covered with
polypropylene honeycomb panelling
.
The full covering of the load compartment also includes the protection of the partition behind the cab: the Store Van bulkhead system, consisting of steel crossbars and lateral reinforcements and wooden and/or perforated metal panels, protects the bodywork but can also be used to store equipment and accessories.
The van covering can be completed with Store Van wheel arch boxes, featuring a steel structure and wooden or perforated sheet-metal side covers, the latter designed for attaching tools and various utensils using straps and load-securing hooks."
---
---
---
---
---
---
Interior coverings for vans:
---
WOOD FLOORING AND POLYPROPYLENE PANELLING FOR VANS
Wood flooring, 9/12 mm thickness, with phenolic film coating and TÜV-certified friction coefficient. Van side panels made of a 4-mm thick polypropylene sheets.
Wooden and polypropylene interior van coverings
ALUMINIUM VAN LINING
Aluminum van lining for the different van parts: left and right side, sliding door and, when needed, for the lower part of the back doors. Aluminum diamond flooring with holes to access the load-restraining rings.
Aluminium van lining
---
Bulkhead System
A protective panel attached to the van partition, consisting of a sturdy structure built with steel crossbeams and side ribbing and modular panels made of engineered birch (smooth) or coated steel (perforated). It performs a three-fold function: protection, safety and load securing.
Wheel arch boxes
The covering of the wheel arch prevents the bodywork from deforming due to the weight of the load being transported. The Store Van wheel arch box is made of 12/10 automotive steel, with holes on the side frames to attach Store Van accessories and equipment, and can be covered on the front with steel or wooden panels.
Wheel arch boxes
---
---
---
Consult our products catalog or select the van equipment you're interested:
---
---
Drawer units for vans: prices and information.